When you live in one of the most beautiful cities in the world, style is an avocation. It's a talent that's developed from living in a vibrant city with prominent architecture and splendid gardens. As you walk through Paris, it's exciting to see how fashion is used as a medium to engage with the city. Unexpected combinations and contrasting elements are put together like a street mural that's imaginative and relevant to city life.
A ribbed knit accentuates the sleek fit of this zippy little sweater knit with sleeves that end just past the elbow. Style Name: Maje Moseta Half Zip Ribbed Sweater.
Parisians dress well because they live well. Whether they're savoring the aroma of a fresh baguette or arranging a bouquet of flowers, feeding the senses is a priority. Parisians are informed about designers and trends, but not tempted by trendy fashion. They're improvisational—American sneakers, Dior sunglasses, and an Italian blazer form an effortless ensemble. They're loyal to French labels like Maje, known for collections that encapsulate the enchantment of Paris, and Equipment, the premiere designer of essential shirts. And when it comes to fragrance, Parisians are uncompromising: French perfume or nothing.

Maje excels at designing smart silhouettes that complement the jaunty spirit of une jeune femme living on the Left Bank. An unraveled sleeve adds a rebellious detail to a tweed jacket, and there's a youthful "do as I please" sway in the hemline of a sassy miniskirt. Parisians adore Equipment's silk shirts because they feel good and add a touch of sophistication to any occasion. The Signature Shirts complement a variety of styles: au courant and retro, feminine and edgy, classic and unconventional. More important, luxurious basics are fundamental to expressing your intrinsic style—the portrait you paint with layers of personality, place, and purpose.
A snappy little ribbed sweater gets sweetened with the addition of crisp cotton sleeves that are puffed to the elbow and covered in dainty eyelet embroidery. Style Name: Maje Mopline Mixed Media Eyelet Sleeve Top.
Sometimes you tie a matching shirt around your waist when you're wearing a bow-printed skirt, and sometimes it's just fun to pretend that's what you did. Style Name: Maje Raprinode Tie Front Skirt.
Embroidered cotton voile adds to the provincial charm of this peasant blouse set with piped seams and billowed, abbreviated sleeves. Style Name: Maje Lolipa Embroidered Cotton Peasant Blouse.
Airy, open, crochet stitching gives these wide-leg pants a boho, throwback vibe. Style Name: Maje Pantelle Open Stitch Wide Leg Crochet Pants.
Take on the day in this feminine jacket featuring a sophisticated floral print with a bold contrast trim and easy fit that goes from desk-to-dinner with ease. Style Name: Maje Icioni Floral Jacket.
A classic navy jacket cut from a wool-rich fabric gets an edgy upgrade with a curb chain-link belt fastened at the waist. Style Name: Maje Ville Chain Belt Blazer.
Tumbled with delicate nosegays and enhanced with shirred and smocked details, this is the flowery dress that will enchant your friends and followers. Style Name: Maje Floral Long Sleeve Dress.
Pintucks and micro pleats add jazz to this whimsically printed dress styled with long sleeves gracefully gathered at the wrists. Style Name: Maje Abstract Print Long Sleeve Dress.
What it is: A lively chypre fragrance that perfectly epitomizes Paris, the city with a thousand faces. Fragrance story: An excess of roses precede the freshness of bergamot notes, accented by bright pink berries. Its undertone is patchouli, bringing together a fragrance that is at once defiant and free. Eau Capitale is decorated with undulating calligraphy—the Eiffel Tower, emblematic roses, a proud peacock fanning its feathers and volutes intertwined. To design Eau Capitale, diptyque and Pierre Marie drew their inspiration from Parisian architecture and the distinct style of Art Nouveau. Style: Chypre. Notes: - Top: rose. - Middle: bergamot. - Base: patchouli.
A girly skater dress style gets glamourized in this all-lace version styled with the expected full skirt and defined with a neat sash at the waist. Style Name: Maje Lace Tie Waist Skater Dress.
Freshen up your dress collection with this delicate option, covered in a gorgeous garden-like motif and accented with alluring cutouts at the waist and back. Style Name: Maje Botanical Print Metallic Dress.
Mesmerizing tie-dye stripes enliven this soft chiffon slipdress styled with a defining waist tie and a ruffled asymmetrical hem. Style Name: Maje Risotye Tie Dye Slipdress.
A gilded zipper with a logo-embellished pull holds this curve-skimming, ribbed dress together, while a contrast collar offers a polished touch to the look. Style Name: Maje Roseta Rib Dress.
Evoking a treasured heirloom, this vintage-inspired crocheted cardigan features floral motifs, a scalloped hem and a single goldtone button at the neck. Style Name: Maje Crochet Cardigan.
Embellished palm trees enliven this cozy pullover fashioned from a soft cotton blend and finished with dropped shoulders for an easy fit. Style Name: Maje Palm Tree Embellished Sweatshirt.
Sporty pull-on shorts get a sleek remix in this supple pair crafted from butter-soft leather. Style Name: Maje Icono Leather Shorts.
Echoes of the '70s can be seen in the pocket styling of these faded and frayed jeans cut from stretch denim. Style Name: Maje Frayed Hem Jeans.
Feminine flotsam and jetsam whimsically animate a printed romper styled with elbow-length puff sleeves and a sassy center cutout finishing the plunge neck. Style Name: Maje Nobi Romper.
Belted shorts featuring a pleated paperbag waist and supersoft stretch-cotton fabric. Style Name: Maje Pura Pleated Paperbag Waist Shorts.
Tweed raglan sleeves, complete with fringed cuffs, put a professional twist on this cotton jersey T-shirt without diminishing its casual-pairing possibilities.
A vivid garden grows and flows across this joyful dress styled with an uneven handkerchief hem and gracefully gathered elbow-length sleeves. Style Name: Maje Floral Handkerchief Hem Dress.
Be sweetly spotted in this charming dress finished at the frills at the neck and sleeves and defined with a contrasting sash. Style Name: Maje Polka Dot Long Sleeve Dress.
A hidden placket adds a streamlined aesthetic to this otherwise unstructured blouse that's cut from a silk-kissed fabric that adds a glossy touch. Style Name: Equipment Chaney Elbow Sleeve Blouse.
This favorite menswear-inspired shirt of fluid silk is updated in a selection of rich and vibrant colors that practically invite spring. Style Name: Equipment Slim Signature Silk Shirt.
Cut from rich silk, this fluid front-button top is styled in a tuckable longline fit with a curved shirttail hem. Style Name: Equipment Therese Sleeveless Silk Top.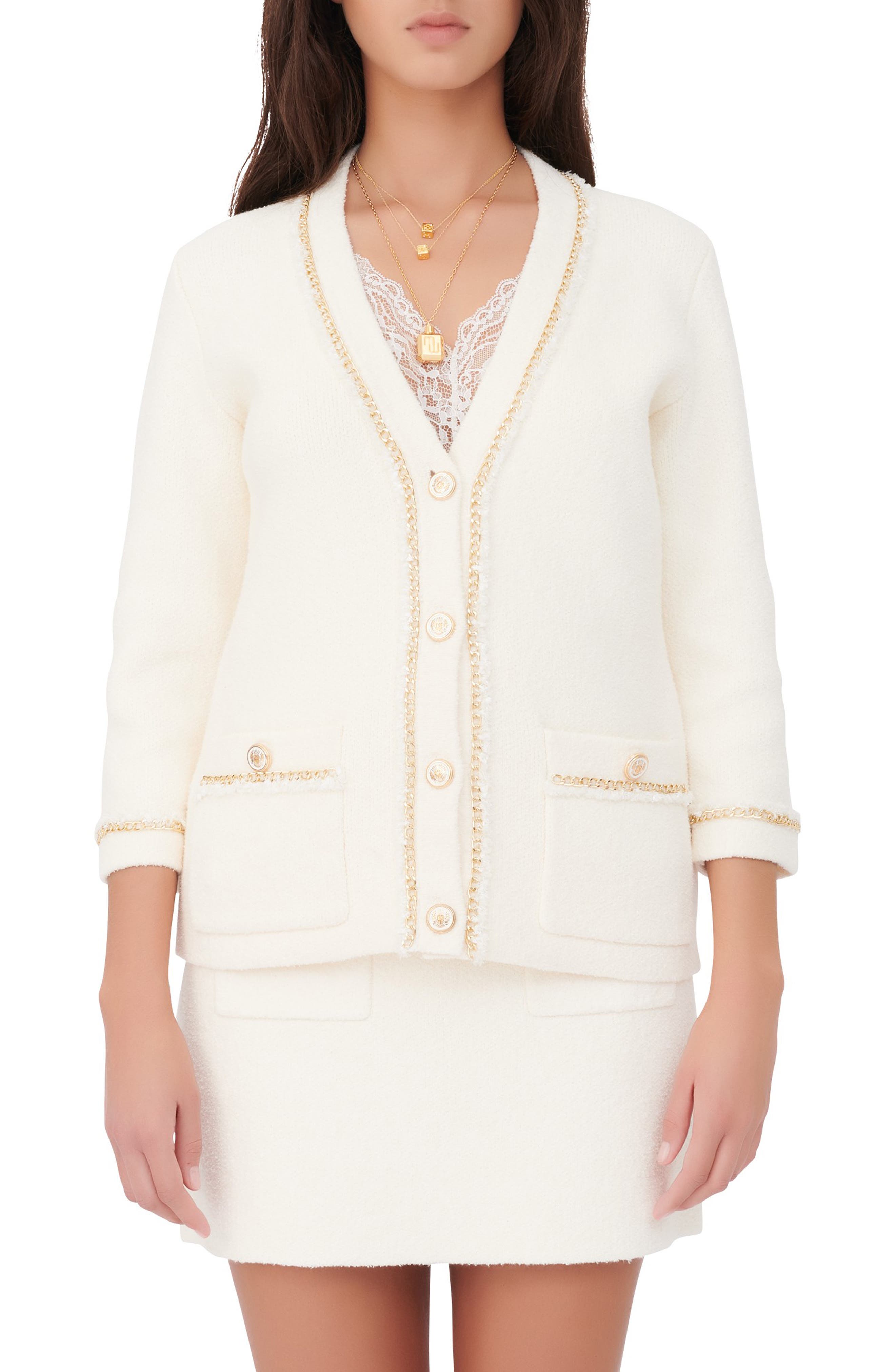 A pretty, fitted cardigan features goldtone chain trim and embossed buttons for a dash of military-inspired style. Style Name: Maje Chain Cardigan.